DRF8 -
lower
footpeg kit for BMW R1200GS 2005 -2012 & ADV 2006-2013
DRF811 -
lower
footpeg kit for all R1100GS, R1150GS,
DRF8W -
lower
for R1200GS Water Cooled 2013 & newer
DRF8W -
lower
for R1200GSA Adventure Water Cooled 2014-2018
R1250GS/ADV
Home Page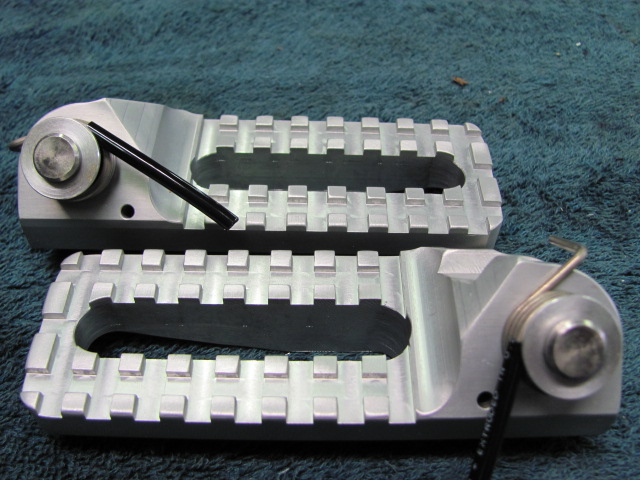 This is the latest grip pattern for the DRF8 series footpegs.
---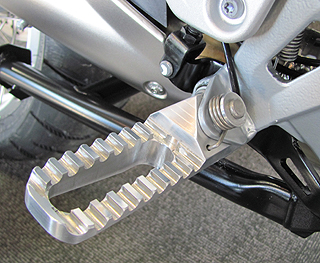 Factory peg, right side view


On R1200GSW, DRF8W - peg- 1.28" lower than rubber insert,
1" lower than metal teeth


Peg designed to clear brake pedal mounting bolt.

New external spring and hardware included.

Peg is tilt adjustable using 8mm set screw.

Length overall 4.75"
Width 1.6"
Grip surface length 3.4"


Left side

Go to GS passenger peg page --->

Passenger footpeg lowering Kit

P16N installed on R1200GSW

Note:
The 2006 & newer R1200GS does not have an adjustable stop on the brake pedal.
On previous models the brake pedal could
be adjusted to a lower position to allow easier access when using our lower footpeg kits. This feature has been eliminated by the factory.

R1200GS 2005-2012 (Oilhead)
DRF8 peg 1.5" lower than factory peg.

R1200GS ADVENTURE 2006 -2013 (Oilhead)
DRF8 peg, 1.25" lower than factory peg.
DRF8W - (2013 & newer) R1200GSW/ADV & R1250GS/ADV Peg Kit - $219.95

DRF8 - (2005-2012) R1200GS "Oilhead" Peg Kit - $219.95

DRF811 - (1995-2004) R1100GS & R1150GS Peg Kit - $219.95


---