R1200GS luggage rack
Return to main page
---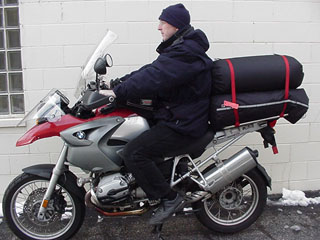 More pictures at bottom of page
Stainless steel luggage rack loaded with Helen2wheels packing system of three
bags held in place with H2W tie down straps.
Top: Large water proof roll top stuff sack with 26" wide thermarest,
standard size sleeping bag and pillow.
Lower left: Extra large cord close bag with Moss Stargazer 2 person tent,
fly, poles, stakes and ground tarp and room left over.
Lower right: Large water proof clothes sack with 7 to 10 days worth of socks,
shirts, pants, shoes, jockeys, shave kit.
And you couldn't ask for a better back rest.
More pictures at bottom of page
helen2wheels.com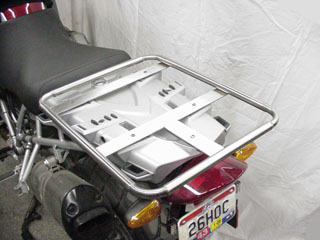 Rack is attached using five button head cap screws. An aluminum spacer
under each screw holds the rack up off of the plastic and rubber parts.
Change over back to passenger saddle takes less than 10 minutes.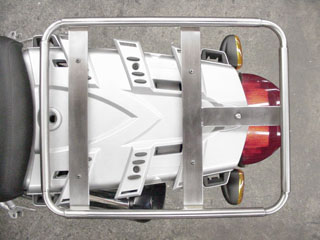 This is a production unit and is compatible with Jesse Luggage.
We have not yet tried compatibility with the factory luggage but it should work.
Size, 19" long and 15" wide. All attachment hardware is included.
8-18-05: Delivery 4-6 weeks (temporarily out of stock)
| | |
| --- | --- |
| R1200GS luggage rack in brushed stainless. - $219.95 | |
Kit includes custom set of Helen Two Wheels tie down straps (Brown).
See pictures at bottom of page.
---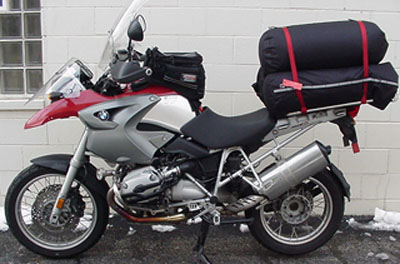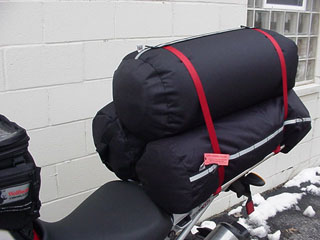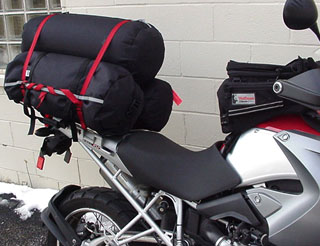 This is about as big of a load as can fit on the rack.
Add your favorite hard luggage to carry the rest.
Camp stove, air pump, tools, tire patch kit, cook set, first aid kit,
flash light, food and drinks.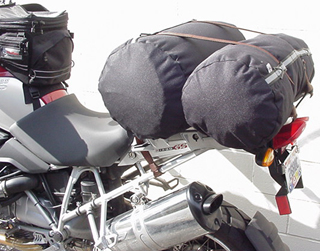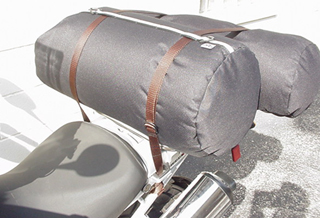 Bags can also be loaded side to side.
Shown here, sleeping bag and thermarest in front bag,
Complete tent in rear bag. At front of rack, straps are lead directly to the frame.
Straps are long enough to load a 3 bag pyramid.
Return to main page
---